Rottweiler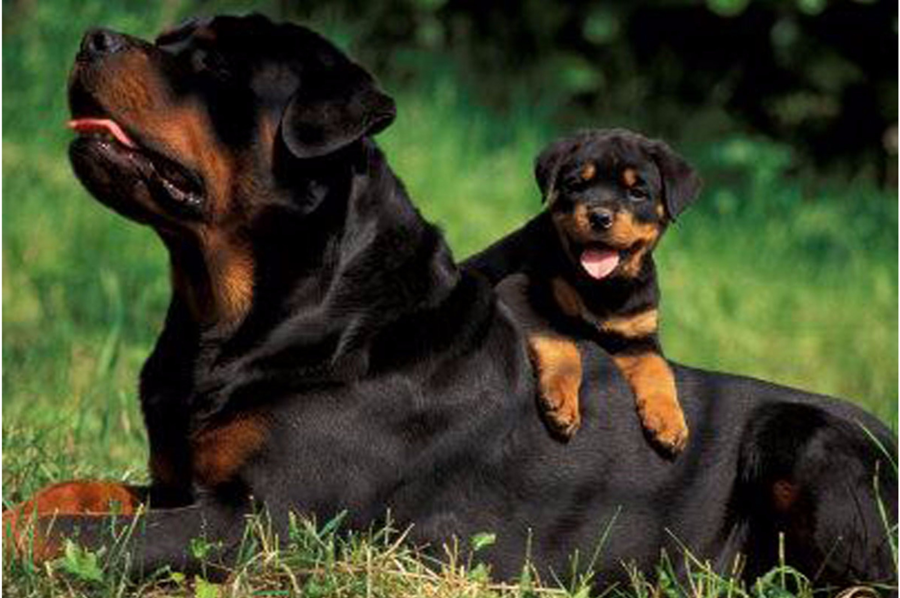 The ideal Rottweiler Dog Breeds is a medium large, robust and powerful dog, black with clearly defined rust markings. His compact and substantial build denotes great strength, agility and endurance. Dogs are characteristically more massive throughout with larger frame and heavier bone than bitches. Bitches are distinctly feminine, but without weakness of substance or structure.
The Rottweiler Dog Breeds is a robust working breed of great strength descended from the mastiffs of the Roman legions. A gentle playmate and protector within the family circle, the Rottie observes the outside world with a self-assured aloofness.
A male Rottweiler will stand anywhere from 24 to 27 muscular inches at the shoulder; females run a bit smaller and lighter. The glistening, short black coat with smart rust markings add to the picture of imposing strength. A thickly muscled hindquarters powers the Rottie's effortless trotting gait.
breed info
Reference - American Kennel Club
Personality: Reserved with strangers and affectionate and loyal with his family
Energy Level: Regular exercise; The Rottie needs at least two solid workouts daily; he would really appreciate it if these always included you!
Good with Children: Better with older children
Good with Other Dogs: Not recommended
Shedding: Seasonal
Grooming: Weekly brushing
Trainability: Agreeable
Height: 24-27 inches (male), 22-25 inches (female)
Weight: 95-135 pounds (male), 80-100 pounds (female)
Life Expectancy: 9-10 years
Barking Level: Barks when necessary