Shih Tzu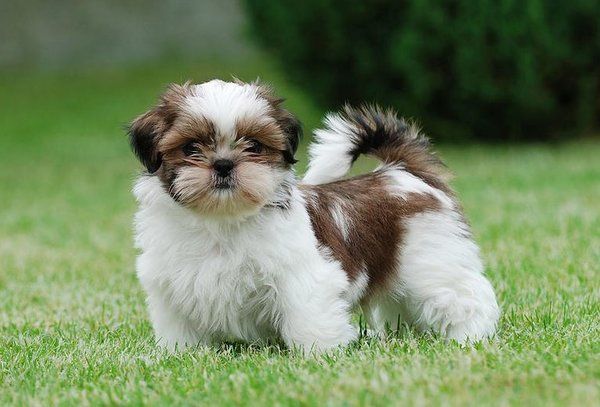 Shih Tzu Dog Breeds (pronounced in the West "sheed-zoo" or "sheet-su"; the Chinese say "sher-zer"), weighing between 9 to 16 pounds, and standing between 8 and 11 inches, are surprisingly solid for dogs their size. The coat, which comes in many colors, is worth the time you will put into it—few dogs are as beautiful as a well-groomed Shih Tzu.
Being cute is a way of life for this lively charmer. The Shih Tzu is known to be especially affectionate with children. As a small dog bred to spend most of their day inside royal palaces, they make a great pet if you live in an apartment or lack a big backyard. Some dogs live to dig holes and chase cats, but a Shih Tzu's idea of fun is sitting in your lap acting adorable as you try to watch TV.
The Shih Tzu Dog Breeds is a sturdy, lively, alert toy dog with long flowing double coat. Befitting his noble Chinese ancestry as a highly valued, prized companion and palace pet, the Shih Tzu is proud of bearing, has a distinctively arrogant carriage with head well up and tail curved over the back. Although there has always been considerable size variation, the Shih Tzu must be compact, solid, carrying good weight and substance. Even though a toy dog, the Shih Tzu must be subject to the same requirements of soundness and structure prescribed for all breeds, and any deviation from the ideal described in the standard should be penalized to the extent of the deviation.
Reference - American Kennel Club
Personality: Outgoing, affectionate, playful and charming
Energy Level: Somewhat Active; Daily walks and indoor playtime will satisfy this small, short-legged companion
Good with Children: Better with Supervision
Good with other Dogs: With Supervision
Shedding: Infrequent
Grooming: Weekly
Trainability: Responds Well
Height: 9-10.5 inches
Weight: 9-16 pounds
Life Expectancy: 10-18 years
Barking Level: Barks When Necessary